ensure your invitations and announcements for college and university graduations follow suggested etiquette guidelines
Helpful College Graduation Announcement Invitation Etiquette Guidelines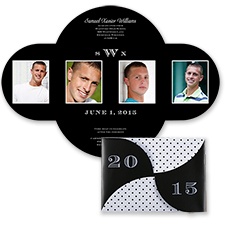 As college university gradation approaches, lots of people are wondering just who should be sent personalized college graduate announcements to? And, what about the quantity of customized invitations and announcements stationery cards you need to order? As you read about college graduation etiquette, you'll find answers to these questions and lots more. Luckily, at GraduationCardsShop.com, our helpful hints for etiquette for university graduation addresses these inquire. We offer lots more answers to other important questions like these for your viewing and use. You will also find the latest styles for all type professional and advanced degree for lawyers, medical doctors, culinary, nursing, and oh so many more. And, all invitation announcement cards offer tremendous disounts and other special promos.
view the latest unique and discounted announcements invitations card design samples for all college, university, and advanced degrees graduations
College Graduation, University Graduates, and Advanced Degrees Graduating Announcements and Invitations

College Announcement Invitation Cards for Graduation

Sheer Style College Photo Announcement Invitation Cards

University Graduating Class Invitations and Announcements

Criminal Justice, Law Enforcement, Paralegal, Legal Assistant, and Other Non-Lawyer Graduation Announcement Cards and Invitations

Criminal Justice Announcement Invitation Cards for Law Enforcement Graduates

Paralegal Scales of Justice Graduate Announcement Invitation Cards

Reflective Justice Scales Legal Assistant Graduate Announcement and Invitation

Popular Culinary, New Chef, and Cooking School Invitations Announcements Cards

Culinary Chef Hat Cooking School Graduation Announcements and Invitations

Culinary School New Chef Graduation Announcement Invitation

New Chef Cooking Culinary School Graduation Announcements

Law School, Juris Doctor, and New Lawyer, J.D and LLM. Graduation Announcements and Invitations

New Lawyer J.D. Graduation Announcement Invitation for Law School Graduates with Feather

Graduation Law School Announcements and Invitations for LLM

Law School Scales of Justice JD Announcements Invitations for New Lawyer Graduations

Medical School, New Doctor, Doctor of Medicine, M.D., and Physician Invitation Announcement for Med School Graduations

Medical School Graduation New Doctor M.D. Announcement Invitation Cards with Caduceus

Medical School Graduation Invitations Announcements for New Doctor

Med School Caduceus Graduating Physician Announcements and Invites

Nurse Pinning Ceremony Invitations and Nursing School Graduation Announcements and for Physician Assistant, Nurse Practitioner, RN, and LPN

RN and LPN Nurse Pinning Ceremony Invitations and Nursing School Graduation Announcements with Nurse Cap

Pinning Ceremony Invites for New Nurse Graduate and School Announcements

Nursing School Graduation Announcement Cards

Open House Graduation Party Invitations for All Graduating Milestone Celebrations

Open House Graduation Invitations with Graduation Caps

Graduating Hats Off Open House Party Invitation Cards

Graduation Time Party Invites for Open House Celebration

Optometry, Ophthalmology, Dental, and Veterinarian School Graduation Announcements and Invitations

Ophthalmology and Optometry Announcements and Invitations for Ophthalmologist and Optometrist Graduation

New Dentist Caduceus Dental School Graduation Announcements DDS

Veterinary DVM Announcements Invitations for New Vet Graduation

Party Celebration Invitations for All Type School Graduating Milestones

Party Invitations for All School Graduations

Color Pop Photo Party Invitations for Graduation Milestones

Add Graduation Hats to Party Invitation Cards

Pharmacy, Architecture, and Physical Therapy Announcement Cards and Invitations for Graduation

Pharmacy Graduation Announcement Invitation Cards with Pharmacist Rx

Architecture Graduation Announcements and Invitations for Architectural Graduates

Physical Therapist Announcements and Invitations for Physical Therapy Graduates

Photo Graduation Announcements Invitations Cards with Graduating Picture or Photograph

Tonal Dots Graduation Fuchsia Announcements Invitations with Photos

Stylish Tassel Photo Announcement Invitation with Wrap

Chalkboard Crest Graduation Photo Invitation Announcement Cards

School Thank You Graduation Note Cards for Expressing Appreciation and Gratitude

Thank You Graduation Note Cards

Filigree Collage Graduation Thank Yous with Photos

Thank You Graduation Class Notes
and, find our entire collections of exclusive, popular, discounted, trendy, and stylish graduation announcements and invitation cards for college, university, and advanced degrees graduating milestone by CLICKING HERE
Appreciating College Graduation Etiquette
Students who are finishing college may want to follow a different approach regarding social manners. At this age, they will likely want to take control of sending their own college announcement, but some will continue to rely on their parents or family members to do the honors for them. By this time, grads should have a good idea of who should receive the graduate invitations. College graduation invitation etiquette works in a similar way. The difference between announcements and invitations is the same for both high school and college, but are usually more significant since tickets are more likely to be limited for the ceremony. But, as with all graduates, they still should not anticipate gifts, although some are likely to be given.
Putting Good Etiquette for University Graduation to Good Use
When preparing to send these important announcing cards, being mindful of graduate announcement etiquette in mind is important. For example, good manners suggest that the recipient list should include any friends, family members, or acquaintances who are not officially invited to the grad ceremony itself. However, good manners also stipulate that if the announcement double as an invitation then they should be sent to everyone. However, only the recipients invited to the graduation itself should be given the necessary information to avoid confusion with your college graduation etiquette.