ensure you are up to date on the proper and suggested announcement etiquette for all type graduations
Must Know Graduation Announcement Etiquette for Graduating Announcements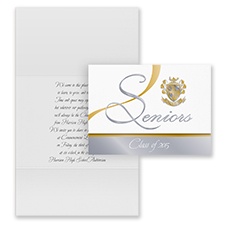 To announce your graduation from one educational milestone to the next to your family and close friends, you'll definitely want to ensure you follow the suggested graduation announcement etiquette. This might seem difficult initially, but the basics of etiquette for announcements includes: (a) how to address; (b) whom to send them to; (c) how to avoid the seemingly obligation of gifts; and (d) ensure that your family is included in the big news. Graduating is a tremendous educational milestone achievement in any student's life, regardless of whether it is from pre-k, kindergarten, high school, nursing, college, or more vocational and technical training. Select from you particular graduating milestone from below, and find lots of sample invitation announcement wordings and sample cards next.

Select Your Particular Graduation Announcement Type Below
Understanding the Rules of Graduating Announcement Etiquette
For events like this, you'll definitely probably want to include all your friends and family members in one big graduating mailing by sending out personalized graduation announcements. But, as with most tasks today, even announcing your graduation has its own set of guidelines for etiquette. Please read the suggested rules for graduating announcements etiquette to be used while informing friends and family of this happy day in your life.
Create and Embellishing Your School Graduate Announcement
At GraduationCardsShop.com, we offer our exclusive patented personalize and real time preview features that guarantee you get exactly what you want before checking out. After selecting your exclusive design to complement your theme, add your own graduate announcement wordings, typestyle, ink color, and font size, and then instantly preview your work. If you want to change any part, simply make those changes and them preview it again, all in real time.
You may repeat this process any number of times so that you are 100% satisfied before you check out and pay for your order. And, equally as good, your proof will be emailed to you within one hour after completing your order. Don't miss our same day printing and shipping on all orders, and our matching invitations for graduation
Addressing Your Graduating Announcement Stationery
Our quality Avon Crest envelopes beautifully complement the Avon Crest Brilliant White card stock all our stationery is printed on. For addressing the envelops, it is recommended that the entire name of the addressee, along with the entire mailing address be written. For example: Mr. and Mrs. Jonathan M. Sanderson, 1200 Street Address, City, State, Zip Code. You should always avoid using abbreviations in any part of the address.
Find creative and graduation etiquette acceptable sampling announcement card wordings for all graduation milestones by clicking on your occasion below
view unique, etiquette acceptable, and discounted announcements card design samples for all graduation milestones
8th Grade – Junior High – Middle School Graduation Announcements Cards and Etiquette

Path 8th Grade to High School Graduation Announcements Invitations

Middle School Wise Ole Owl Graduation Announcement Cards

Caps Galore Junior High School Announcement for Graduations

College, University, and Advanced Degrees Graduation Etiquette for Announcement Cards

College Announcements Cards for Graduation

Sheer Style Photo College Announcement Cards

Graduation Class University and Announcements

Cosmetology, Beauty School, and Hair Dresser Stylist Etiquette Announcement for Graduates

Hair Stylist Announcement and Beauty School Cosmetology Graduation Invitation

Cosmetician Graduation Announcement Designs and Cosmetology Beauty School Invitations

Hairdresser Beauty School Graduation Announcements and Cosmetologist Graduate Invitation

Criminal Justice , Paralegal, Legal Assistant, Law Enforcement, and Other Non-Lawyer Graduations

Criminal Justice Announcement Cards for Graduates

Paralegal Scales of Justice Graduating Announcement Cards

Reflective Legal Assistant Justice Scales Graduate Announcement and Invitation

Chef Hat Culinary Cooking School Graduation Announcements Invitations

Culinary New Chef School Graduation Announcement Invitation

Cooking Culinary School Graduation Announcements for New Chef

Reflection High School Announcements for Graduation

Snapshot Style Photo Graduation Announcement

Graduation Hats High School Announcement Cards

Homeschool, Homeschooling, and Home Schooled Graduate Announcement Cards

Homeschooling Graduation Ladder Announcements for Home Schooled Graduates

Stylish Graduate Announcements for Homeschoolers

Home School Graduation Hat Announcements for HomeSchooled

Kindergarten, Little Tots, and Lil Tykes Graduation Announcements for Kindergarteners

Graduation Little Tyke Kindergarten Announcements Invitations

Polka Dots Kindergarten Graduation Photo Announcements Invitations

Kindergarten Little Tot Graduation Announcement Cards

Law School, New Lawyer, and Juris Doctor, J.D. Graduation Announcement Invitations

New Lawyer Graduation Announcement for Law School Graduates with Feather

Graduation Law School Announcements and Invitations

Law School Scales of Justice Announcements for New Lawyer Graduations

Medical School, New Doctor, Doctor of Medicine, and Physician Announcement for Med School Graduations

Medical School Graduation New Doctor Announcement Cards with Caduceus

Medical School Graduation Announcements for New Doctor

Med School Caduceus Graduating Physician Announcements and Invites

Physician Assistant, Nurse Practitioner, RN, and LPN Nursing School Graduation Announcements and Nurse Pinning Ceremony Invitations

Nurse Pinning Ceremony announcement and Nursing School Graduation Announcements with Nurse Cap

Pinning Ceremony Invites for New Nurse Graduate and School Announcements

Nursing School Graduation Announcement Cards

Open House Graduation Party Announcements for Graduate Celebrations

Open House Graduation Announcements with Graduating Caps

Graduation Hats Off Open House Party Cards

Graduation Time Party Invites for Open House Celebration

Ophthalmology, Optometry, Dental, and Veterinarian School Graduation Announcements and Invitations

Ophthalmology and Optometry Announcements for Ophthalmologist and Optometrist Graduation

New Dentist Caduceus Dental School Graduation Announcements DDS

Veterinary DVM Announcements for New Vet Graduation

Party Celebration Announcements for All Type School Graduations

Party Announcements for All School Graduations

Color Pop Photo Party Announcement Cards for Graduation Milestones

Add Graduation Hats to Party Cards

Pharmacy, Architect, and Physical Therapy Announcement Cards for Graduation

Pharmacy Graduation Announcement Cards with Pharmacist Rx

Architecture Graduation Announcements for Architectural Graduates

Physical Therapist Announcements for Physical Therapy Graduates

Photo Graduation Announcements Cards with Graduate Picture or Photograph

Tonal Dots Graduation Fuchsia Announcements with Photos

Stylish Tassel Photo Announcement with Wrap

Chalkboard Crest Graduation Photo Announcement Cards

Preschool Graduation Announcement for Preschooler Pre-K Lil Tykes Graduates

Little Tyke Preschool Graduate Announcements and Invitations

Photo Announcements for Preschooler Graduation

PreSchool Wise Ole Owl Graduation Announcements Cards

Specialized School Graduations Announcements for GED, Trade Schools, Voc-Tech, and More

GED General Educational Development Graduation Cards

Trade School Graduation Announcement Cards

Voc-Tech Graduating Announcements Cards

School Thank You Graduation Note Cards for Expressing Appreciation and Gratitude

Thank You Graduation Note Cards

Filigree Collage Graduation Thank Yous with Photos

Thank You Graduation Class Notes
and, find our entire collections of popular, inexpensive, trendy, and stylish graduation announcement cards for your particular graduating milestone by clicking the appropriate link above
Best Etiquette for Receiving Graduation Gifts
As written previously, you will most likely receive some gifts for graduation when you send your announcing cards. You'll definitely need to remember to send a personalized graduating thank you card within two weeks of receiving the gift. For your thank you note card wording, you should include details like what you plan to do with the gift. This little extra personal touch is an excellent way of showing that you truly appreciate their gift and kind gesture. In addition to the gift thank yous, you should also send appreciation notes to those who attended your ceremony and / or the party.
The primary objective for announcing your graduation is to let you close relatives and friends know about the new life you will be starting soon. By including them in your plans, you also make your friends and family feel special enough to know about your accomplishments and achievements. By following these suggested graduation announcement etiquette guidelines, you're almost certain to avoid hurting anyone's feelings, and ensuring that everyone shares in your happiness in a positive way.