enjoys interesting facts and tales about the history of graduation cap and tassle as you are customizing your announcements and invitations for graduate
Popular Graduation Cap and Tassel Announcements Invitations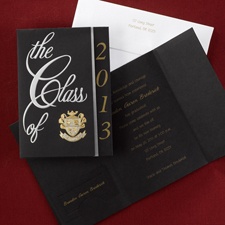 When it comes to the school graduation cap and tassel, there are hundreds of years of tradition behind this practice. The use of the mortarboard, which is what the hat is often called, is steeped in early tradition, down to how the graduate's hat should be worn: squarely on your head, not as most females do which is tilt the hat sideways or backwards. The robe dates back to the days when priests and government wore robes, and long ago many college students wore the gowns and hats as their school uniform, if you can believe that. And, lots of grads use these as a theme for their customized school graduation invitations announcements stationery cards.
Interesting Details and History of Cap and Tassel for Graduates
The color system of your graduate caps and tassels evolved to identify students of advanced educational levels like colleges and universities. Originally, most of the robes were the same color, so it was the hat style or the tassel that created what is now a part of the cap tassel traditions. And, these traditions and view continue today, except for the addition of a range of mixed colors. This variety now reflects what the colors that each school adopted for its ceremonies. And, later on in our history, high schools adopted this college tradition.
Announcements with Gradating Cap and Tassel
Tradition dictates the use of an announcement with caps and tassels decorated styles be sent to those who are not going to be able to attend the ceremony. For variety, when it comes to design theme, GraduationCardsShop.com, our family owned business, has its own in-house design team will create what you are looking for, thus enabling you to match your colors or use your own favorite colors. You can also incorporate your school logo or any special college department, such as engineering as a part of your graduation design theme.
Invitations with Gradation Tassel and Cap
With an invitation with graduate caps with tassels you can be assured of having totally unique invites. Most educational facilities dictate the tassel is to be moved from right to left after the handshake or the diploma is handed over to the graduate. It's also common for the caps with tassels to be a keepsake with the tassel often removed and is often displays in the grads car or in their bedroom as a decoration.
Because of the graduation cap and tassel uses and popularity, more students are choosing to use these when selecting their personalized invitation announcement stationery cards.
read lots of additional interesting and helpful articles and details about graduation facts for all graduating milestones
Find lots of sampling announcement invitation wordings for all type graduation milestones by clicking on your occasion below
view unique and discounted announcements and invitation card design samples for all graduation milestones
8th Grade Graduation Announcements, Middle School Graduate Invitations, and Junior High School Graduating Cards

Path to High School Graduation Announcements Invitations from 8th Grade

Wise Ole Owl Middle School Graduation Announcement Invitation Cards

Caps Galore Announcement Invitation for Junior High School Graduations

College Graduation Announcements, University Graduating Invitations, and Advanced Degrees Graduate Cards

College Announcements and Invitations for Graduation

Sheer Style College Photo Announcement Invitation Cards

Graduation University Class Invitations and Announcements

Cosmetology Graduation Announcements, Beauty School Graduate Invitations, and Hair Dresser & Stylist Graduate Cards

Hair Stylist Announcements and Beauty School Cosmetology Graduation Invitations

Cosmetician Graduation Announcement Designs and Cosmetology Beauty School Invitations

Hairdresser Beauty School Graduation Announcements and Cosmetologist Graduate Invitation

Criminal Justice Graduate Announcements, Law Enforcement Graduation Invitations, and Graduating Cards for Paralegal and Legal Assistant

Criminal Justice Announcement Invitation Cards for Graduates

Paralegal Scales of Justice Graduating Announcement Invitation Cards

Reflective Legal Assistant Justice Scales Graduate Announcement and Invitation

Culinary School Graduate Announcements, New Chef Graduation Invitations, and Cooking School Graduating Cards

Chef Hat Culinary Cooking School Graduation Announcements Invitations

Culinary New Chef School Graduation Announcement Invitation

Cooking Culinary School Graduation Announcements for New Chef

High School Graduations Announcements and Invitations for High Schooled Graduates

Reflection High School Announcements and Invitations for Graduation

Snapshot Style Photo Graduation Invitation Announcement

Graduation Hats High School Invitation and Announcement Cards

Homeschool Graduation Class Announcements and Invitations for Home Schooled Graduates

Homeschooling Graduation Ladder Announcements for Home Schooled Graduates

Stylish Graduate Announcements for Homeschoolers

Home School Graduation Hat Announcements for HomeSchooled

Kindergarten Graduation Announcements and Invitations for Little Tots and Tykes Graduations

Graduation Little Tyke Kindergarten Announcements Invitations

Polka Dots Kindergarten Graduation Photo Announcements Invitations

Kindergarten Little Tot Graduation Announcement Invitation Cards

Law School Announcements for Graduations and New Lawyer Graduation Invitations for Juris Doctor J.D. Graduates

New Lawyer Graduation Announcement Invitation for Law School Graduates with Feather

Graduation Law School Announcements and Invitations

Law School Scales of Justice Announcements Invitations for New Lawyer Graduations

Medical School Graduate Announcements for New Doctor, Doctor of Medicine, and M.D. Physician

Medical School Graduation New Doctor Announcement Invitation Cards with Caduceus

Medical School Graduation Invitations Announcements for New Doctor

Med School Caduceus Graduating Announcements and Invites

Nursing RN Graduation Announcements and Nurse Pinning Ceremony Invitations for New LPN Nurse, Nurse Practitioner

Nurse Pinning Ceremony Invitations and Nursing School Graduation Announcements with Nurse Cap

Pinning Ceremony Invites for New Nurse Graduate and School Announcements

Nursing School Graduation Announcement Cards

Open House Graduation Invitations with Graduating Caps

Graduation Hats Off Open House Party Invitation Cards

Graduation Time Party Invites for Open House Celebration

Ophthalmology Graduation Announcements, New Dentist Graduate Invitations, and Veterinarian Graduating Cards

Ophthalmology Graduation Announcements for Ophthalmologist, Invitations for Optometry Graduating as Optometrist

New Dentist Caduceus Dental School Graduation Announcements DDS

Veterinary DVM Announcements Invitations for New Vet Graduation

Party Celebration Invitations for All Type School Graduation Parties

Party Invitations for All School Graduations

Color Pop Photo Party Invitations for Graduation Milestones

Add Graduation Hats to Party Invitation Cards

Pharmacy Rx Graduation Announcements, Architect Graduating Invitations, and Physical Therapy Graduate Cards

Pharmacy Graduation Announcement Invitation Cards with Pharmacist Rx

Architect Graduation Announcements and Architecture Invitations for Graduates

Physical Therapy Graduate Announcement Invitation for Therapist

Photo Graduation Announcements and Picture Invitations for Graduates with Photography

Tonal Dots Graduation Fuchsia Announcements Invitations with Photos

Stylish Tassel Photo Announcement Invitation with Wrap

Chalkboard Crest Graduation Photo Invitation Announcement Cards

Preschool Graduation Announcements and Invitations for Pre-k Graduates for Lil Tykes and Tots Graduating

Little Tyke Preschool Graduate Announcements and Invitations

Photo Announcements and Invitations for Preschooler Graduation

PreSchool Wise Ole Owl Graduation Announcements and Invitation Cards

Specialized School Graduations for GED – Trade Schools – Voc-Tech

GED General Educational Development Graduation Cards

Trade School Graduation Announcement and Invitation Cards

Voc-Tech Graduating Invitation Announcements Cards

Thank You Appreciation Graduation Note Cards for Expressing Your Gratitude

Thank You Graduation Note Cards

Filigree Collage Graduation Thank Yous with Photos

Thank You Graduation Class Notes
and, find gigantic collections of more popular, trendy, stylish, and discounted graduation announcements and invitation cards for your particular graduating milestone by clicking the link above