be confident with your graduation etiquette guidelines for graduate announcements and invitations
Help With Your School Graduation Announcements and Invitations Etiquette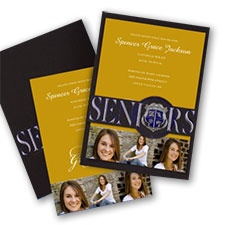 As graduating season rolls around, proper graduation announcements and invitations etiquette becomes a highly sought after topic of interest. Everyone with someone graduating will want to have a better understanding of the socially accepted suggestions and guidelines that offers preferred behavior when communicating with your graduation announcement invitation cards. When it comes to etiquette for graduates, there are some applicable suggestions that people use to ensure that they send quality personalized stationery cards, with your own announcement and invitation graduation wordings. You want your stationary to be meaningful, easy to understand, tasteful, and demonstrate respect for the recipient, so rely on our helpful hints and suggestions by simply clicking on your particular need below.
Read More About All Our Graduation Etiquette for Graduate Type
Graduation Etiquette – Made Simple
We at GraduationCardsShop.com know that some people feel somewhat threatened when it is time to create their own invitation wording. That's why we not only provide you with a gigantic collection of samples to improve your graduation invitations etiquette wording ideas, we also assist you in designing perfect stationery products. You can view our web pages for wordings, sayings, and verses, and you can have your own words put on your custom cards. Want to tell your invited guests that a gift is not required? Simply add it on your cards. Want to ask your invited guests that in lieu of a gift, they should donate monies for a college fund collection? You can add that too.
Graduation Announcement Etiquette for Mailings
Socially accepted guidelines suggest you give guests plenty of advance notice. You will want to get your stationary designed and ordered well in advance, so you can give ample notification to all of your intended guests. To help you ensure you have ample time, we offer same day printing and shipping on all orders to ensure you have plenty of time to get in touch with everyone.
Complete your order and approve your proof by 2:00 p.m. central time during any business day and we'll have your order printed and shipped out the same day so you will feel confident that you are following acceptable graduation etiquette guidelines.
Find samples for the various school milestone graduation announcements and invitations, all guaranteed to exceed your expections.
Find lots of sampling announcement wordings for all type graduation milestones by clicking on your occasion below
view a sampling of inexpensive but unique announcements invitations cards designs for all graduation milestones
Path to High School Graduation Announcements Invitations from 8th Grade

Wise Ole Owl Middle School Graduation Announcement Invitation Cards

Caps Galore Announcement Invitation for Junior High School Graduations

College Announcements and Invitations for Graduation

Sheer Style College Photo Announcement Invitation Cards

Graduation University Class Invitations and Announcements

Hair Stylist Announcements and Beauty School Cosmetology Graduation Invitations

Cosmetician Graduation Announcement Designs and Cosmetology Beauty School Invitations

Hairdresser Beauty School Graduation Announcements and Cosmetologist Graduate Invitation

Criminal Justice – Paralegal – Legal Assistant & Other Non Lawyer Graduations

Criminal Justice Announcement Invitation Cards for Graduates

Paralegal Scales of Justice Graduating Announcement Invitation Cards

Reflective Legal Assistant Justice Scales Graduate Announcement and Invitation

Chef Hat Culinary Cooking School Graduation Announcements Invitations

Culinary New Chef School Graduation Announcement Invitation

Cooking Culinary School Graduation Announcements for New Chef

Reflection High School Announcements and Invitations for Graduation

Graduation Hats High School Invitation and Announcement Cards

Homeschooling Graduation Ladder Announcements for Home Schooled Graduates

Stylish Graduate Announcements for Homeschoolers

Home School Graduation Hat Announcements for HomeSchooled

Graduation Little Tyke Kindergarten Announcements Invitations

Polka Dots Kindergarten Graduation Photo Announcements Invitations

Kindergarten Little Tot Graduation Announcement Invitation Cards

New Lawyer Graduation Announcement Invitation for Law School Graduates with Feather

Graduation Law School Announcements and Invitations

Law School Scales of Justice Announcements Invitations for New Lawyer Graduations

Medical School Graduation New Doctor Announcement Invitation Cards with Caduceus

Medical School Graduation Invitations Announcements for New Doctor

Med School Caduceus Graduating Announcements and Invites

Nurse Pinning Ceremony Invitations and Nursing School Graduation Announcements with Nurse Cap

Pinning Ceremony Invites for New Nurse Graduate and School Announcements

Nursing School Graduation Announcement Cards

Open House Graduation Invitations with Graduating Caps

Graduation Hats Off Open House Party Invitation Cards

Graduation Time Party Invites for Open House Celebration

Ophthalmologist and Optometry Announcements and Invitations for Graduation

New Dentist Caduceus Dental School Graduation Announcements DDS

Veterinary DVM Announcements Invitations for New Vet Graduation

Party Invitations for All School Graduations

Color Pop Photo Party Invitations for Graduation Milestones

Add Graduation Hats to Party Invitation Cards

Physical Therapy Graduate Announcement Invitation for Therapist

Tonal Dots Graduation Fuchsia Announcements Invitations with Photos

Stylish Tassel Photo Announcement Invitation with Wrap

Chalkboard Crest Graduation Photo Invitation Announcement Cards

Little Tyke Preschool Graduate Announcements and Invitations

Photo Announcements and Invitations for Preschooler Graduation

PreSchool Wise Ole Owl Graduation Announcements and Invitation Cards

Specialized School Graduations for GED – Trade Schools – Voc-Tech

GED General Educational Development Graduation Cards

Trade School Graduation Announcement and Invitation Cards

Voc-Tech Graduating Invitation Announcements Cards

Thank You Graduation Note Cards

Filigree Collage Graduation Thank Yous with Photos

Thank You Graduation Class Notes
and, find our entire collections of popular, inexpensive, trendy, and stylish graduation announcements and invitation cards for your particular graduating milestone by clicking the appropriate link above