School Colors in Your Graduation Announcements and Invitations
Personalize Your Graduation Announcements and Invitations with Your School Colors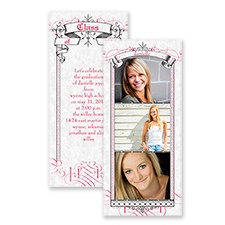 Parents have spent years with their child attending a variety of events so what better way to celebrate their graduation than with decorative invitations and announcements with his School Colors. For More About Graduation School Color go to www.GraduationCardsShop.com. By using School Colors Graduation Invitations as your theme you can incorporate their school pride into the stationery.
Our family owned business, GraduationCardsShop, has its own in-house design team, and our patented preview and personalization features allow you to create your very own Graduation Invites School Color Cards. A professional looking, yet personalized School Graduate Colors Announcements are always a plus for those looking for a way to truly personalize their graduation experience. With an excellent designed invitation or announcement to your special occasion, you can make a moment that memories of your event will last forever.
Graduation Announcements with Your School Colors
If you are searching for red & blue, red & grey, green & grey, blue & yellow or any other combination, search no more! Our printable invitations, announcements, cards and party invitations feature school graduate themes including your school's colors. Each of your recipients will see the pride you have in your school with your School Graduate Invites! This school pride and dedication is reflected in each of our Graduation Invitation, Graduation Announcement and Graduation Party Invite that highlights your school's colors, no matter what combination of colors you have. All Graduation Cards can feature not only your color but can also a photo, diploma, cap & gown or any other school item.
School Colors Graduation Invitation shows School Pride!
Imagine the look on everyone's face when they receive your awesome School Colors Graduation Announcements. We promise you that their look will not be of disappointment; instead it will be of awe and amazement when they gaze upon your school color blended in with a matching design and message. Your Graduation School Color Invites can also look just like your Graduation School Color Announcement that way the design flow continues from start to finish on both pieces. Even if you want a slight difference we can create that as well. We customize each order to you and any other customer's wish. We exist for you and your needs.
School Graduate Color Cards Galore!
White and Blue, Gold and Purple, no matter your School Color Grads will have the correct shade. for your school will be the easy part. Even if you think that there is no way that your colors are available simply giving us the chance to show that not only can we deliver your colors but we can do it with a sense of flash. We know there is a difference between crimson and red, as well as the number of different shades of blue when it comes to your Graduate School Colors.