Interesting Facts about Graduations
Read Interesting Facts about Graduations You Always Wanted to Know But Didn't Ask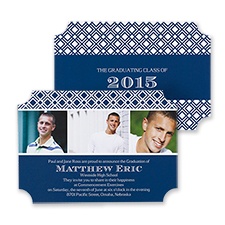 When it comes to graduation, there are tales of lore that make up lots interesting graduation facts that are always interesting to read. Although some of these are said to be seeped in history, others started as traditions from England and were then Americanized to what we do today as a part of the entire commencement experience. Most of these traditions, regardless of when it was created, make graduation facts of interest, whether you are the graduate, parent, or guest. And, don't forget those personalized graduating announcements and invitations all grads send out today.

The wearing of the mortar board hat and tassel go back to the time when a variety of different school graduate hats were worn. While some schools still have their own special type of hat, here in the USA most of the colleges and high schools use the same hat. The only variety comes in the color of the material and the colors of the tassels. Some schools have both sexes wear the same color, while others have a different color for male and female graduates.

The traditional colors of gowns are black, white, and blue, though the trim and other decorations can change depending on the school and the level of degree. Gold tassels, as an example, were originally intended to be used exclusively by those graduating with a doctorate, but as time passed, several schools have adopted gold as their color.
Interesting Graduation Facts – Following Traditions
If you are a graduate attending the same high school or university that other family members attended, this can create pressure to follow tradition for family members. Your great-grandfather may have worn a hood as a part of his cap and tassel, and some of your family members have their heart set on you wearing. While the wearing of that hood might extend back to the 12th century, it is probably something that you prefer not wear. Besides, depending on your course of study selected, it might not be appropriate.
Researching these interesting graduation details affords you the reason not to as well as the reason to follow tradition. Some traditions you do want to follow, such as making sure you have your tassel on the right side of the hat, though students have for years decided to make their own graduation statement by boldly doing the opposite. Regardless, proper graduation etiquette should always be followed as a courtesy to the school and respect to your fellow grads.
Though certain procedures and traditions should be followed, such as men removing their hats during the performance of the national anthem, the pledge of allegiance and if there is a religious invocation. However, women are exempt from the hat removal during the ceremony, since most will need to use hair pins or bobby pins to keep the hats squarely on their heads instead of titled back.
More Graduation Facts of Interest to Grads
One of the most important and best recognized special features is the diploma, which has a rich history going back to the times even before Rome when soldiers were given a diploma. This was to show that they had served enough time in the military and were exempt from paying certain taxes. These diplomas were made of animal skin, and are still called a "sheepskin" by many even though most schools stop using the animal based parchment and started using paper in the fifties on their diplomas.
The Latin word that diploma was derived from means "folded paper" since that is how the original papers were handled, either folded or rolled. This applied to the Roman soldier as well as for the governmental documents. With the early adopting of the signet ring used as a seal typically with wax since most people, during that time period, did not use the written signature.
The seal was guarded carefully since that was the one way to tell if something was official. Popes and kings alike had the seal destroyed or defaced upon their deaths so no one could claim orders were given before a new power came into place. Flash forward to today and that's become the history behind the graduation ring.
So, with all the history and traditions of today's school graduation, it's easy to see how the interesting graduation facts live on today.
Read More Graduation Facts of Interest to School Graduates Here