School Name to Graduation Announcements and Invitations
Customize Your School Graduation Invitations and Announcements by Adding School Name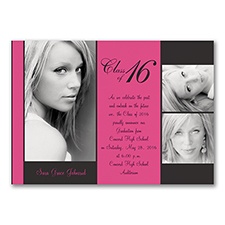 School pride is something most graduates embrace, and what better way to show just that than with your school name on your graduation stationery. Read lots more about graduation school names at GraduationCardsShop.com. We have a patented process that enables you to customize any graduation invitation announcement card on our site with the name of your school. Simply add the name while adding your very own personal text, typestyle, fonts, ink color and size, then click "preview" and your totally personalized card will be shown. Want to change anything about the features? Simply, make the changes and then click "preview" again and your changes will be updated. This process may be repeated any number of times.
Include Your School Name on Graduation Stationery
We can make your school name stand out and i don't mean making it a bright yellow or even a bright orange just to get you to look at it. Instead we want you to see the name in a strong and commanding appearance. Your graduation school name announcements are most important – especially if you have friends coming in from out of town to witness one of your lives achieving moments. Having them see your school graduation announcements name on excellent quality card stock shows your pride in your accomplishments and school.
Graduation Invitations with School Name A Keepsake
Your invitations can include your name of school along with the many other choices you decide. Graduation invitations school name are just one of the many options we offer to our customers. You can select from a number of fonts and other design options, as well as help you design the rest. Graduation school name invitations are one of our stationery specialties. An invite is not a simple piece of paper, as we make it our business to ensure that your invite is not ordinary.
If you would like your custom graduation invitations, printable graduation announcements, or unique graduation cards to have your school's name in bold across the top and your personalized message, we can do it! Simply complete your order including your personalized message, and we will send you a proof within one hour during business hours with your personalized message and school name for your approval.