Special Graduation Features Online
Take Advantage of All the Special Graduation Features for Your School Graduate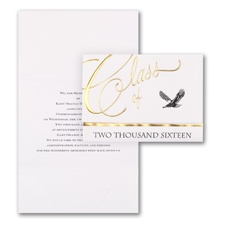 As your graduate's commencement ceremony approaches, you'll want to read as much as you can about special gradation features available. This time in your grad's life will, undoubtedly create lots of memories and keepsakes for this graduating event. One of the first elements will be selecting your personalized graduation invitation announcement stationery cards, uniquely designed for your special occasion at GraduationCardsShop.com. Our patented features enable you to incorporate anything you feel is important to create your graduation time to remember.
Take Advantage of the Many Special Graduation Features Available
One of the most common parts of graduation ceremony that binds everyone is one of the many graduation interesting facts. Years of studying, dedication and fun all contribute to the many years of the collegiate, high school and other school graduate experience. It's a time that includes some special features as well as the opportunity for each student and family to start their own traditions.
We help in this process by enabling you to add a graduate photo, picture, or school logo to and design on our site. This will go a long way in starting your on stationary tradition. Or, if you prefer, we'll also gladly change or modify any invitations announcements cards on our website. All you need to do is just ask us.
One of the features is the diploma, which has a rich history going back to the times of Cleopatra. During those days, soldiers were given a diploma made of animal skin to show that they had spent a good portion of their lives to military service for the emperor and were exempt from paying poll taxes. That's why, even today, lots of people continue to call it a "sheepskin" even though most schools stop using the animal based paper, parchment, and started using paper in the 1950s.
The Graduation Ring and School Diplomas – More Special Features
For the early diplomas, it wasn't just sheep that were used. Cows and goats were also sacrificed for document material before paper became easy to produce. The term, "diploma" was derived from the words "folded paper" since that is how the original papers were handled, either rolled or folded. This was applicable to both the early days of the Roman soldiers as well as for the governmental documents.
With the early advent of the signet ring, used as a seal typically with wax since most people during that time period did not make use of a written signature, the seal was guarded carefully since that was the one way to tell if something was official. Popes and kings had the seal destroyed after they died deaths so no edicts were given before a new power came into place.
While we at GraduationCardsShop don't promise you the power of kings, we will give you 10 free cards and free shipping to help make your special graduation features even more appealing and appreciative.
More Details About Graduates Special Feature Options Online